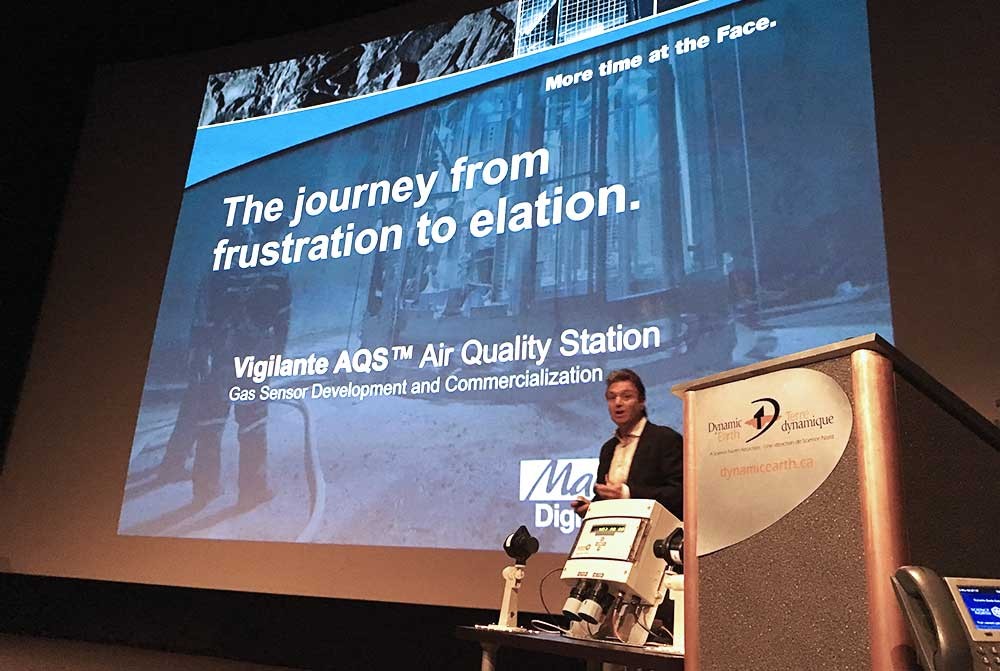 Sudbury, ON (September 27, 2017) – CEMI (Centre for Excellence in Mining Innovation) celebrates 10-year anniversary of delivering mining innovations at its Annual General Meeting (AGM) at Dynamic Earth to a packed theatre highlighting CEMI's results, partners and dedication to delivering technical solutions to the mining industry through innovation and commercialization.
Members from the Ultra Deep Mining Network (UDMN) presented their commercially viable projects and how they are implementing their technologies into the mining industry. Among the speakers, Mr. Michael Gribbons, Vice President of Sales and Marketing, Maestro Digital Mine presented their project under the UDMN theme: Improved Human Health and Effectiveness entitled, "Environmental Air Quality Stations for Deep Mining". In 2016, this project won the UDMN Outstanding Achievement in Commercialization for taking their UDMN commercially viable innovation to completion, achieving a commercial sale(s) and creating a new and important technical product category within the marketplace for use in mining operations. Maestro Digital Mine's technical innovation, the first recipient of the award, ensures the safety of underground miners. In addition to Maestro, UDMN members Jannatec Technologies and Electrale Innovation/MIRARCO were also featured as part of the UDMN Innovation Showcase.
CEMI coordinated a dynamic SME-led Innovator Panel: What it takes to be a successful Innovator in Mining! The panel explored what it takes to get their innovative ideas adopted by the mining industry. Gained valuable insights into how SMEs have identified the needs of the mining industry and how they are delivering solutions. Moderated by Dick Destefano, Executive Director, SAMSSA, panelists included: Walter Siggelkow, Founder and President, Hard-Line; Michael Gribbons, Vice President of Sales and Marketing, Maestro Digital Mine; Christine Haas, President, Renix; and Chris Novak, CEO and Owner, Centric Mining Systems. These innovative thought leaders engaged the audience and shared their strategies on how they have grown their business, taken risks, empowered their people, developed their business through new products, services, technologies and continue to take advantage of new market opportunities.
Maestro Digital Mine is featured in the CEMI 2017 Annual Report.