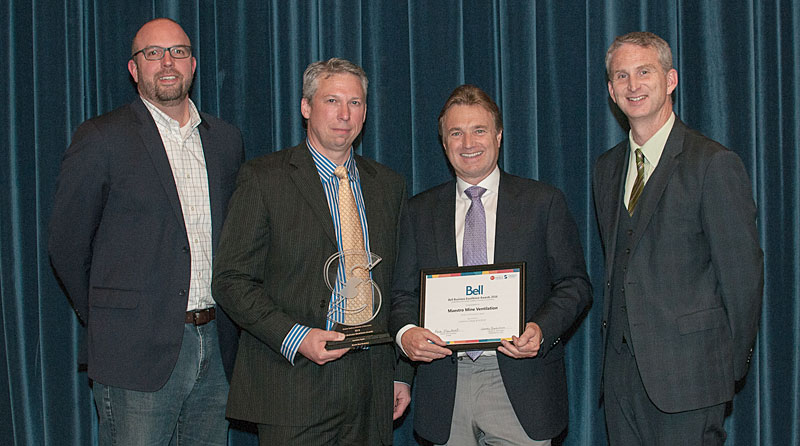 Left to right: Don Duval, NORCAT, Dave Ballantyne, Maestro Digital Mine, Michael Gribbons, Maestro Digital Mine, Bill Best, Cambrian College
Sudbury, Ontario – Maestro Digital Mine is being recognized as an innovator in mine ventilation and automation.
The Sudbury-based company was honoured at the 19th annual Bell Business Excellence Awards gala celebration May 12 at the Caruso Club in Sudbury. Hosted by the Greater Sudbury Chamber of Commerce, the annual awards ceremony pays tribute to entrepreneurs and businesses that demonstrate excellence in their field.
David Ballantyne, vice-president of development and technology and Michael Gribbons, vice president of marketing and sales, were on hand to accept the Innovation Award, sponsored by Cambrian College and Bell Business Excellence Awards.
The Innovation Award is presented to a company that has demonstrated product research, prototype development and environmental innovation. Judging is based on key criteria including Product Research and Development, Environmental Innovation, Marketing of New Innovations and Impact on Community.
Maestro Digital Mine serves the underground mine ventilation and automation sector. Its product line delivers energy savings and productivity improvement while working to provide healthier and safer working conditions for miners.
"So much of what we have accomplished in the last few years is a team effort; listening to clients, analyzing their needs and then implementing solutions," said Mr. Gribbons.
"When it comes to product development, we also consult with the world's leading global mining companies, ventilation consultants and VOD integrators."
Maestro is driven to provide ventilation solutions to improve the underground work environment, essentially extending the lives of miners while still providing economical solutions to increase production, reduce energy consumption and green house gases emissions. Maestro has developed the world's first digital ultrasonic airflow sensor, the first web page based Air Quality Station, the first integrated Ethernet fan monitoring system and the first LED web page and Ethernet driven display.
Maestro has developed ventilation solutions for some of the largest global mining corporations including Barrick Gold Corporation, BHP Billiton, Newmont Gold, Xstrata, Rio Tinto and Vale.

For more information:
Michael Gribbons
Vice President, Sales and Marketing
Phone: +1 705 805-6918 ext 203
This email address is being protected from spambots. You need JavaScript enabled to view it.

Maestro Digital Mine
(a division of High Grade Controls Corporation)
87 Magill Street
Sudbury, Ontario P3Y 1K6 Canada
www.maestrodigitalmine.com
Save